Do you feel like you're working so hard to achieve and thrive within your MomLife + BizLife, and yet you feel like you're struggling? 
Is the multitasking, people-pleasing Mompreneur life even worth it and are you still chasing the balance game in it all? 
I totally, stinkin' get it. 
The chaos, the feeling behind the hour on the hour. You've got meals to makes, picky kids to feed, houses to clean (or laundry to decide to put away or leave in the corner), proposals to write, a social media life to nurture, a business to scale online—Oh, and self-care, personal development, and everything in-between the dreams of experiencing the harmonic MomLife + BizLife you desire, right?
Tired of people saying you need self-care? And you think to yourself, "I don't even know what the hell that means"?
Or are you struggling with any of these thoughts?
"I'm tired of the tug-of-war between work and family."
"I'm exhausted, stressed, and running out of time."
"I feel guilty when I do have free time because I think I should be playing with kids or working on my biz."
"I'm tired of all the decisions and having to choose between MomLife + BizLife."
"My to-do list is overwhelming."
"I need more energy."
"There simply is not enough time."
You are not alone and you're not broken.
That's why I created this one-of-a-kind "Mindset + Achieve Course and Coaching Program" It will help you achieve the Mompreneur dream that includes defining your consistent self-care, family quality time, and running a profitable business—without guilt and without comparing yourself to anybody else.
I make it easy for you because I've discovered the secret formula and science that creates a winning Mompreneur Mindset for YOUR success.
Thrive in MomLife + KILL it in BizLife—that DIDN'T FEEL LIKE A STRUGGLE?
Experience a day where you HAVE ENOUGH TIME for MomLife + BizLife?
Experience a coach who GUIDES YOU THROUGH THE "HUMPS" in business. You finally start speaking, writing that book, launch your course—you START and get over that current hump.
Learn to turn off the LOUD INTERNAL DRAMA so that you can get sh*t done and stay out of your own way?
Build your business with MORE CONFIDENCE?
EARN MORE MONEY within days of implementing key Mompreneur strategies.
Have the mindset that will OVERPOWER YOUR EXCUSES and daily self-sabotaging stories?
Experience more GUILT-FREE days as a Mompreneur?
STOP COMPARING your entire identity and life to everyone else's social media feed?
Receive the exact formula to experience what it's like to THRIVE at HOME and KILL IT in BUSINESS?
Have access to support, accountability, and a coach 24/7?
Have an entire new Mompreneur life where you have LESS STRESS, less judgment, less negative self-talk, and MORE POSITIVE ACTION?
Learn and use a PROVEN, REPEATABLE MODEL to achieve ANY kind of results you want within your MomLife + BizLife?
Have a LIFETIME ACCESS in a comprehensive course and coaching program that has all of the above and more?
The most all-inclusive, one-of-kind course + coaching program. Mindset + Achieve™ is a high-touch, all-inclusive coaching program that brings simplicity and consistency to your MomLife + BizLife. This proven framework helps you discover your own customized formula for self-care, family time, and a profitable business so you become a confident woman, conscious mother, and badass business owner.
Susan gives 100% and helps me to see when my mindset/thought chatter is keeping me stuck and from moving forward with my business and my personal life. She is generous with her time, input and helps us move out of our own way. She listens to our struggles and provides insight and guidance on how we can proceed. Susan continuously provides support, guidance, and insight to help me get out of my head and into action. The Mindset + Achieve™ group is a great community of supportive women with a strong leader, Susan.
I've never felt more recognized, understood, and supported for what I am trying to pursue. There's a sense of belonging to a safe, non-judgmental community of like-minded women. Susan really gets the struggles we face as mompreneurs, she keeps the reality of the challenges real and offers tools and methods that are practical, attainable, and long-lasting. Susan's energy and ability to face challenges with a positive and strong mindset are contagious. She constantly keeps the struggles of mompreneurs real by sharing her own struggles but inspires us to face them with practical mindset shifts and tools. She models and practices what she teaches, she challenges you to become even more resilient. You feel like you have a partner along this journey. I now have a safe community to turn to for advice and feedback.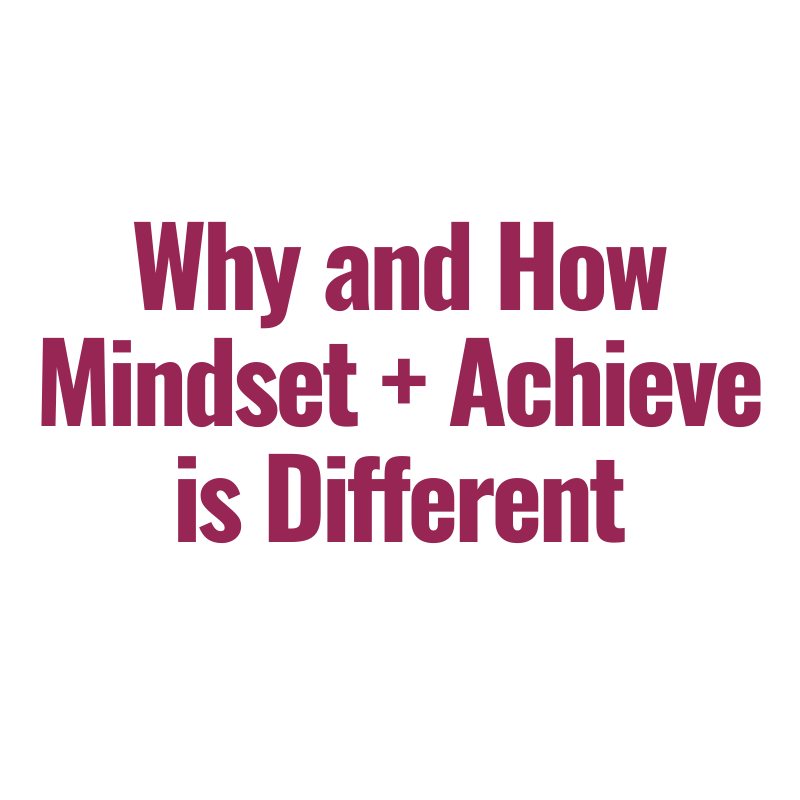 Mindset + Achieve is the first of its kind, there's nobody else that uses this trademarked formula—"Get All A's in the Game of Life—Mompreneur Life".
Learn how to reframe your beliefs about perfection, failure, money, time, and more.
This program not only teaches you simple scientific strategies but also gives you templates for what you need to succeed in both MomLife + BizLife.
It gives you clarity on what you want your Mompreneur life to look like.
Learn how to step into your next level self so that creating the outcome you desire is inevitable.
Working with Susan has given me the balance I have been looking for and missing for far too long in my life. I have taken control of my life and emotions instead of going through the motions. I felt stressed and overwhelmed with work and home life. I was frustrated I wasn't spending the quality time I wanted with my kids and husband. I was struggling to find time to exercise or get in any self-care. Now I'm happier, feel more joy in my life, I'm definitely less stressed and frustrated. I'm more aware of and able to control my emotions, shift my mindset, and choose how I react to situations. When I'm faced with challenges or disruptions, I'm able to stay positive, take a moment to think it through, shift, and adapt accordingly. I have been able to make time to exercise regularly and get consistent self-care, read daily, and work on starting my business. I now spend quality time with my family, connect better with my husband, and significantly improved our communication (which we have been struggling with for the past year and a half). 
Susan's level of engagement and how much she cares about me and her clients wanting them to succeed. She pushes us, cheers us on, and celebrates with us all.
Working with Susan has given me the ability to achieve my desired results in a very short period of time. Before, I did not have a clear vision of how my different business ventures could give me an adequate ROI. I also did not have the confidence or structure to form a solid action plan on attaining these goals. I suffered from a personal/ business life balance.
As a single mom, I held a lot of guilt on focusing too much on my entrepreneurial hats and not enough on my quality time with my boys. It showed up in my work and I didn't even know.  We have been working together for a little over a month and the newfound clarity, structure, and self-nurturing I have learned to receive has given me the ability to almost double my client acquisition, establish a better relationship with my children and also focus on my newest venture in writing my first book.
Working with Susan has added so many layers to the solid foundation of personal growth I've been severing for years. Digging into her program has opened up action steps to having a positive mindset, through not only believing and thinking but acting and achieving to build new habits.
The results so far have proven that when you invest in yourself monetarily, thoughtfully, and proactively, the ROI will blossom tenfold. 
Mindset + Achieve Coaching Program is traditionally broken down into 3 modules with bonus modules such as "Business Center, Health Hub" and more. The course is designed to finish the core 3-module course in 12 weeks.
All of the course materials, streaming video training, audio files, worksheets, replays of weekly coaching, and all recorded expert and guest speaker trainings—are all stored within our member portal.
Content Delivery, Coaching + Community Support
MODULE/MONTH 1: ACCEPTANCE, EMBRACE, OWN
A FOUNDATIONAL START: You will learn how acceptance awakens and ignites healing, growth, and transformation. You'll create your new foundation so that you can master the Mompreneur mindset for a lifetime of motivation, wellness, discipline, and success.
BUSINESS CENTER
ADDITIONAL MODULE: This module is filled with all things business. Templates and resources that I use, systems that I've discovered, and more. This module is forever evolving with business-specific training and tools. You're gonna feel like you hit the business jackpot!
MODULE/MONTH 2: MOMPRENEUR SUCCESS WITH APPRECIATION
THE HIDDEN SECRET: Dive into how the proven science behind appreciation, the components of happiness, and how the "appreciation power" ignites your MomLife + BizLife. You don't have to waste any more time, money, and energy to thrive at home and kill it in business.
HEALTH HUB
ADDITIONAL MODULE: This is a dedicated module and library for all things health. Nutrition tips, tools, and templates. Training and other resources that will help you thrive at home and kill it in business.
MODULE/MONTH 3: UNLIMITED ACHIEVEMENTS
CONNECTING ALL THE GAME PIECES TOGETHER: It's time to experience the abundance of opportunities around you. You will begin to feel your unlimited potential. You'll dive into the power of achieving and create momentum so that you create the efficiency and balance within your Mompreneur life—and feel successful.
GUEST EXPERT TRAINING:
ADDITIONAL EXPERTS: I'm so excited and thrilled to have partnerships with some amazing experts in various industries.  We are coming together to support you on your Mompreneur journey. All interviews and expert LIVES are recorded and stored within our membership portal.  
"I have been blown away by the transformation from Susan's 90-Day Mindset + Achieve Coaching program. While I have done coaching before, I never had someone as invested in me as Susan. She has really taught me to question my mindset, and why sometimes I don't go all in. The weekly community meetings are so supportive and helpful. This is a MUST DO program.  Do not wait – because all you are doing is holding off on being your best!"
I've always known the value of having a mentor. In the last 4 month's my life has catapulted in a new direction after meeting and working with Susan. She ignites your mindset and coaches you till you see results. Her positive energy is contagious and she is a wise, nurturing soul. If you need a push to take your dreams from idea to reality, Susan's your gal!
Ladies if you're even contemplating working with Susan and taking her program, I advise you to think about what's best for YOU. Think about the goals you want to accomplish, but feel stuck doing them on your own. The thing is, you're not. I connected with Susan before I was to chat with a potential client. She gave me the confidence boost to go in there and WIN and guess what? I did. I charged the most I've ever charged and she said yes. Susan is there to get us to the next level!!! Who's ready?
What's included with this exclusive lifetime membership…
Develop a Winning Mompreneur Mindset
Learn lasting practices

that you'll be able to

apply DAILY


within your MomLife + BizLife so that you can

achieve daily goals.




Weekly

lessons, training, 4-minute meditations, and coaching included within a member portal and private membership group
Coaching + Accountability
Receive 1:1 coaching and support through our 24/7 private Facebook

group filled with Mompreneurs like you, our exclusive experts, and Mindset + Achieve™ Coach, yours truly, Susan (me)
Inside Access + Templates
Tangible tools, templates, swipe files, inside nutrition plans, and more!
With years of investing in my own personal and professional growth, I share the knowledge and resources with my community so that you don't have to re-create the wheel or start from scratch in creating your MomLife + BizLife success.
Weekly Office Hours + Q&A
Choose to join the weekly LIVE zooms for coaching and community
within the membership, you can choose to join us every single week, or whenever you need that extra support and community love. All zooms are recorded and stored within the membership portal. Weekly office hours for your hands-on questions and special coaching needs.
Exclusive Expert Guest Speakers
I have partnered and continue to invite guest speakers to offer additional, valuable training, and to be one of our "go-to" experts within the private Facebook group. 
All of the bonus training from our experts are recorded and stored within the membership portal.
Susan's positive energy and vibe is infectious! I took her Mindset and Achieve Coaching program because I was struggling with a side business I have had for three years. She helped me find clarity in what I really wanted to do. She is tough and gives weekly tasks in order to move forward. The one-on-one sessions and the group sessions are both beneficial and Susan really knows how to drill down to specifics. We're half-way through the course and I am already up and running!
Susan has been an incredible resource as I've launched my real estate business. I had an idea of the systems I wanted to implement but felt overwhelmed with the goal of implementing them in a three-month time frame.
Susan worked hand-in-hand with me to encourage a positive mindset, clarify a brand that embodied my vision, demystify the tools needed to streamline leads and customer follow-ups, and procure and implement a website that maximized my ability to do all of the above. Without her, I'd be years behind where I am.
I recommend her to anyone with a dream in her heart who needs a coach who believes in it with the same passion as though she dreamt of it herself. Much love to this woman!
You're 100% protected with our 30-day risk-free guarantee. I'm confident that if you do the work, engage with me and the community, you receive tremendous value. If you've gone through the course, in addition to the coaching, training, and community—and haven't experienced any results personally or professionally, you'll receive a full refund.
I personally cannot wait to serve and support you!
My name is Susan Vernicek and I ignite and empower Mompreneurs like you who struggle to discover their balance between MomLife + BizLife.
I'm ready to help you create a winning Mompreneur Mindset so that you can thrive at home and kill it in business —without feeling guilty and letting go of the comparison game.
I first started igniting the lives of women 13 years ago through my wellness magazine, (IdentityMagazine.net), which empowers women to transform through Self-Acceptance, Appreciation, and Personal Achievement.
As a Mindset Igniter, Expert, and Creator of Identity Magazine I continues to spread my inspirational energy and expertise worldwide via workshops, conferences, several Podcasts, TV, and through digital and print channels, including my fist 2011 first Identity Magbook and my #1 Amazon Bestseller, "Get All A's in the Game of Life: Insights Along the Way", Entrepreneur Edition. You can find my articles and tips cited online in The Huffington Post, EmpowHER, BlogHer, and Yahoo Shine; as well as in books and magazines published by Harper Collins, Bright Street Books, Reinvention Press.
I fully embody the notions of the modern-day woman that I advocate for all women. I successfully juggle and enjoy the Mompreneur life, adventures, dancing, golfing, and traveling with the loving support of my husband and twin toddlers in The Poconos, PA.
Do you need to know more about me?
I started my business at the age of 25 and created success throughout each season of my life from a single depressed woman, all the way to marriage and now as a Mom of twin toddlers.
I created my own speaking career that turned into 6 figures.
I have published 3 books and am a #1 Amazon bestseller.
I created a digital magazine and have closed multiple $40k contracts.
I'm the youngest of 7, ranging from 39-65.
I'm a certified life, mindset, and nutrition coach.
I love adventure + activities like snowboarding, hiking, dancing, and happy hours.
Is this opportunity for you…
Mindset + Achieve™ Course and Coaching Program is not for everyone.
It is for Mompreneurs who are starting a business or have a business while also doing the Mom thang.
It's for you if you're an implementer and ready to take action to do the work and ask for help.
It's for you if you've tried to thrive at home and kill it in business, but are still struggling to experience both.
It's for you if you want to experience achieving, over and over because of simple and sustainable systems.
If you're ready to experience more positive action
If you're ready to earn more money
if you're ready to squash self-sabotaging and self-limiting behaviors
If you're ready to invest in a coach that won't allow you to stay stuck.
This is for you and you can handle my one-of-a-kind energy and quirkiness. 😉
You must be coachable.
Why you need to join us NOW
"The best time to experience a thriving Mom + Biz life was yesterday, and the next best time is today!"
We wish and dream while we compare and judge ourselves and others. We think and wish that our life and our business was as successful as so-and-so. What if feeling, knowing, and experiencing success was possible for you now, tomorrow, within the next few days?
Yes, that IS possible and attainable.
I don't want you to experience the yo-yo-ing in both MomLife + BizLife. I don't want you to suffer, self-judge, compare, or feel less than anymore.
Your time is NOW.
I don't want you to look back 3,6, and 12 months from now still struggling with feeling like you don't have your shit together or your business sucks. Or thinking, what am I waiting for, or not moving forward because you can't commit to taking any kind of action.
I want to load you up with all the feels. I want to ignite your passion, energy, mind, business—your entire Mompreneur Identity.
You CAN have it all.
You CAN THRIVE at home and KILL it in business.
I've got you covered.
I have been working with Sue and her coaching for just a couple of months now, during a global pandemic. In just these short couple of weeks, Sue had assisted me with re-branding, setting up my business, setting up my website, designing a logo, marketing myself, attaining clients, helped me find confidence within myself, lifted me up.
She'd shoot straight with me and called me out on procrastination techniques, helped me figure out blocks I had and why I was fighting what I wanted for myself, she helped me establish a home workout program when my gym closed due to COVID and assisted me with my nutrition when I was not eating properly.
Sue's positivity is contagious. Her determination, drive, and knowledge helped propel me and ignite my entrepreneurial journey. I am truly blown away by the amount of work we were able to get done, during such a difficult time. Sue has given me techniques to overcome fear and face it straight on with confidence, determination, and grit. For the first time in my life, I am truly proud of myself and my accomplishments. I know with Sue's help and assistance that I can live up to the potential I have within and become the person and have the career I have always envisioned for myself.
Mindset + Achieve™ Course and Coaching Program
Book Your Interest Call Now
1:1 Coaching Sessions, Lifetime Course Access with the Group Community
Weekly Self-Led Training Videos...that fully equip you to WIN in every (yes every!) area of your life. Also with lifetime access to all course materials


Weekly Live Office Hours...where you can bring your questions, special coaching needs, and MORE to receive the quick + hands-on help you need!

24/7 Prive FB Group Support...Lifetime access to bonus training, top experts, supportive Mompreneurs just like you, and the Original Mindset Igniter + Coach... yours truly


Exclusive Access to Past, Present, and Future Guest Speakers...that are truly experts in their fields and provide such valuable information every.single.time. You'll be able to access these trainings LIVE or replays


The Business Center...crammed with money blueprints, branding guides, proven templates, outlines, content prompts and that's just skimming the surface! It's your one-stop-shop to the tools you need to break through your revenue ceiling!


The Health Hub...where you'll find nutrition hacks, meal plans, comprehensive go-to health guides, and much more!

All of this PLUS rewards and incentives for task and course completion!

LIFETIME ACCESS
Course Portal + Community, and Exclusive "Ask the Coach" feature
Bonus (and optional): Complimentary 1 Year of Business Advertising with Banners on IdentityMagazine.net
Do you offer payment plans
There are a few options we can discuss.
What happens once I sign up?
You will get a welcome email with your log-in to the program portal.
That email will also include a "Welcome Guide" that outlines exactly how to get started both for your 1:1 sessions and the Private Facebook group.
Enjoy the course and community for life!
I'm a total newbie to business, is this for me?
Yes! This program will help you ignite your business ideas and help you create a winning mindset so that you can launch and grow without the chaos and overwhelm. We have the foundation work for you and we provide tangible tools to help speed the process.
Is there a time-frame for the material and membership?
1:1 coaching is for one year. Lifetime access includes past, present, and future courses, the course portal, and Private FB group, and the unlimited "ASK COACH" form. Once my students finish the course, some of them go back and do it again with their new mindset and results. Students who also finish receive rewards!
What's the risk?
The biggest risk is not getting started because 6 months from now you might still be in the same place, wishing you had started back then. If you change nothing, nothing will change for you, and only you can take the first step toward changing your life, NO ONE else can do it for you… We also offer a 30-day money-back guarantee. If you do the work and get no results within 30 days, we'll refund you your full investment.
It's always a great idea to express gratitude. Today I want to extend my deepest gratitude and blessings to an amazing woman. The more I know her, the more I admire her, Susan Vernicek ?
Three years ago I began writing my book, The Becoming of a Light Warrior. I knew that it would take an extraordinary person to help me bring it into a reality. I waited patiently for the right person to come along. I spoke to at least 20 people and decided to put my book project on hold until the right person showed up.
One morning during my routine meditation, the book presented itself to me, like a reminder. I thought to myself "well, I haven't find the right person." All of a sudden, Susan's face appeared right in front of me. We began working together right away, and I have to say, my spirit guides never fail me. They sent me the right person for the job.
Susan is a magnificent coach and a human being with a big heart and one of the most beautiful smiles. Her work ethics are irreplaceable. She is truly resilient and has positive and contagious energy. She is resourceful, hands-on, creative, and reliable. During our weekly meetings and many conversations, I would have ideas and Susan has this ability to translate into a marketing strategy and that idea would come to life in a significant way.
I always say that it takes a village to raise a child, and this book is definitely my third child. Susan was a key person that allowed me to bring my baby to life. I'm so blessed and grateful to have her on my journey. If you find yourself putting your desires, business or your next project on hold, then, Susan is your girl. She will ignite the spark needed to make it happen. She will not stop until you reach your goal. Susan, thank you so very much for putting so much effort, and making the process fun!
"If you could bottle her energy, enthusiasm and positive nature, you would have a guaranteed formula for success! Susan is an eternal optimist who recharges everyone around her with her positive spirit. I am always inspired by observing all that Susan undertakes. She is a wonderful role model to women and entrepreneurs everywhere and she continuously amazes those around her. We at B.I.G. are both proud and grateful to have Susan as one of our B.I.G. VIRTUAL GLOBAL leaders. Through her, our brand is wonderfully represented and she epitomizes our mission of "women empowering women" to fulfillment."
'Crazy-busy' is a great armor, it's a great way for numbing. What a lot of us do is that we stay so busy, and so out in front of our life, that the truth of how we're feeling and what we really need can't catch up with us.
Susan is one of the most genuine, hard-working and real women I know. With her guidance and infectious energy I lost 5 pounds in the first 2 weeks of working with her, I'm able to focus with more clarity and I'm having so much fun. She has a knack for seeing through the "junk" of life and getting right at the heart of what matters to each of us. I've watched her in a group setting, and her enthusiasm is so authentic and always there. On those days when I don't feel like I can give my best, I know that Susan will be right there for me to pull my through. The results both physically and mentally have been incredible.
"Susan's programs has led to clients re-entering the workforce, starting new businesses, and returning to school.  Asking "What will I do next, not in-spite-of, but because-of the challenges life has given me?" has proven to be a very powerful, life-changing program."