I would love to invite you to
Discover your Power & Ignite your Life
Did you know that your life situation is the best gift you've ever received?
How would you feel if you were given an unlimited amount of POSITIVE ENERGY?
It might seem impossible to imagine right now, but I KNOW you can experience:
Direction
Motivation
Weight loss
More energy
A fulfilling career
A sense of purpose
Better relationships
A community of support
Mental & physical strength
TRANSFORMATION & RESULTS
How do I Know? 
Because I have worked with thousands of women and I saw them transform in just a single day after working with me. By the end of our time together they were:
• Not feeling alone
• Waking up full of energy and purpose
• A plan to earn a living
• Living life with less stress and struggle
• Laughing in conversation with great friends
• Traveling to their favorite destinations
• Jumping into every photo opportunity because they absolutely love how they look
• Fully confident in every decision they make
• Earning more income in their business and within their career
I joined Susan's program because I watched her videos and loved her excitement, devotion, and commitment to everyone!  
When I started, I was very insecure and didn't really believe in myself.  I loved every aspect of the program.  After working with Susan, I became more confident and started making specific goals.  I love how Susan held me accountable and encouraged me week by week.  I am so confident that I will succeed in my future.  I felt stuck and didn't know how to get out of my situation.
Our one-one coaching was very successful and I now journal and make goals that I know I will reach.  Susan is committed to what she does and I highly recommend her!
You will love the change within you and will realize your potential.  
Susan is a powerful coach that has amazing insight. As a high-performance coach myself, I am very critical of those who call themselves coaches. Susan took the time to get to know me personally and listened actively to provide unique solutions to my business challenges. I will definitely continue to seek her out for her very candid and transformational advice.
'Crazy-busy' is a great armor, it's a great way for numbing. What a lot of us do is that we stay so busy, and so out in front of our life, that the truth of how we're feeling and what we really need can't catch up with us.
All Included:
• 6 private 1-1 coaching calls/zoom
• Copy of each book: Identity Magbook and Bestseller, Get All A's in the Game of Life
• Weekly (12) Group Zoom Calls
• Weekly Video Training with breakthrough questions/homework
• High-touch, on-demand coaching
• Open text and email communication.
• Access to my contacts and Rolodex to help you reach your goals
<center></center><script type="text/javascript" data-pp-payerid="5BS7W6ZJ48K42" data-pp-placementtype="728x90" data-pp-style="BLUWHTYCSS"><!-- [et_pb_line_break_holder] --> (function (d, t) {<!-- [et_pb_line_break_holder] --> "use strict";<!-- [et_pb_line_break_holder] --> var s = d.getElementsByTagName(t)[0], n = d.createElement(t);<!-- [et_pb_line_break_holder] --> n.src = "//www.paypalobjects.com/upstream/bizcomponents/js/merchant.js";<!-- [et_pb_line_break_holder] --> s.parentNode.insertBefore(n, s);<!-- [et_pb_line_break_holder] --> }(document, "script"));<!-- [et_pb_line_break_holder] --></script></center>
It's always a great idea to express gratitude. Today I want to extend my deepest gratitude and blessings to an amazing woman. The more I know her, the more I admire her, Susan Vernicek ?
Three years ago I began writing my book, The Becoming of a Light Warrior. I knew that it would take an extraordinary person to help me bring it into a reality. I waited patiently for the right person to come along. I spoke to at least 20 people and decided to put my book project on hold until the right person showed up.
One morning during my routine meditation, the book presented itself to me, like a reminder. I thought to myself "well, I haven't find the right person." All of a sudden, Susan's face appeared right in front of me. We began working together right away, and I have to say, my spirit guides never fail me. They sent me the right person for the job.
Susan is a magnificent coach and a human being with a big heart and one of the most beautiful smiles. Her work ethics are irreplaceable. She is truly resilient and has positive and contagious energy. She is resourceful, hands-on, creative, and reliable. During our weekly meetings and many conversations, I would have ideas and Susan has this ability to translate into a marketing strategy and that idea would come to life in a significant way.
I always say that it takes a village to raise a child, and this book is definitely my third child. Susan was a key person that allowed me to bring my baby to life. I'm so blessed and grateful to have her on my journey. If you find yourself putting your desires, business or your next project on hold, then, Susan is your girl. She will ignite the spark needed to make it happen. She will not stop until you reach your goal. Susan, thank you so very much for putting so much effort, and making the process fun!
Susan is one of the most genuine, hard-working and real women I know. With her guidance and infectious energy I lost 5 pounds in the first 2 weeks of working with her, I'm able to focus with more clarity and I'm having so much fun. She has a knack for seeing through the "junk" of life and getting right at the heart of what matters to each of us. I've watched her in a group setting, and her enthusiasm is so authentic and always there. On those days when I don't feel like I can give my best, I know that Susan will be right there for me to pull me through. The results both physically and mentally have been incredible.
Ladies if you're even contemplating working with Susan I advise to just think about what's best for YOU. Think about the goals you want to accomplish but feel stuck doing them on your own. The thing is, you're not. I literally called Susan one minute before I was to chat with a client. She gave me the confidence boost to go in there and WIN and guess what? I did. I charged the most I've ever charged and she said yes. Susan is there to get us to the next level!!! Who's ready?
Are you sick of comparing your life to others even when you know the grass isn't always greener?
Are you sick of going through the motions in life?
Are you READY to FEEL alive, fulfilled, passionate, energized, loved, supported, validated and accomplished?
If you are READY to PLAY an ACTIVE ROLE in your life, rather than just survive it?
Step right up – I have the perfect formula for you…
Discover your Power & Ignite your Life
I developed my unique formula after years of trial and error, working with thousands of people and tracking their successes.  
I feel passionate and empowered to help others SEE that their lives are worth living in a big way.
I want to bring this empowerment,
energy and fire right to your soul.
Month 1:: Accept / Embrace
FOUNDATIONAL WORK: During the first month we are going to lay the foundation for motivation, nutrition, discipline and acceptance.
Month 2:: Appreciation / Gratitude
Heart-centered worK:  We'll dive into how
appreciation is the glue to success, the components of happiness and how the power of Appreciation ignites youR life.
Month 3:: Achieve /Succeed
CONNECTING ALL THE PIECES TOGETHER:  It is time to see the abundance of opportunities around you; you will begin to see your unlimited potential. We'll dive into the power of achieving and creating rituals that will support your transformation.

Content Delivery 
This is a short form course, with video recordings that will be released to you on a weekly basis, and where you will receive worksheets with prompts and thought provoking questions to answer. These worksheets are meant to increase your awareness around your life and to help you create the change you desire.
Coaching
We will meet once a week in a private group session, where you will have the chance to ask me any questions that may have come up during the week, any challenges you would like to discuss and receive any support and resources you will need.  This is your chance to get 1:1 support and be coached by me.
Community of Support
We will engage in a closed Facebook group, where I will pop in and support you even more.  Plus, you will be joined by others who are also ready to ignite their inner fire and change their lives, and this will help motivate you even more to move forward.
"Susan's programs has led to clients re-entering the workforce, starting new businesses, and returning to school.  Asking "What will I do next, not in-spite-of, but because-of the challenges life has given me?" has proven to be a very powerful, life-changing question."
"If you could bottle her energy, enthusiasm and positive nature, you would have a guaranteed formula for success! Susan is an eternal optimist who recharges everyone around her with her positive spirit. I am always inspired by observing all that Susan undertakes. She is a wonderful role model to women and entrepreneurs everywhere and she continuously amazes those around her. We at B.I.G. are both proud and grateful to have had Susan as one of our pod leaders. Through her, our brand is wonderfully represented and she epitomizes our mission of "women empowering women" to fulfillment."
Who is Susan Vernicek?
Susan Vernicek, Mindset Mentor & Energy Enabler

Sought after motivational speaker and best selling author of "Get all A's
in the Game of Life", Susan has been transforming people's lives for over 8 years.
She has been featured in major publications and has appeared on TV.
Through her signature personal development formula, Susan has educated many people about increasing their awareness and  empowered them to actively manifest their deepest desires.
After having realized that her life situation was a result of the inner workings of her mind (due to several traumatic events she had experienced), she set out on a journey of self discovery and took the TINIEST steps possible in order to change her seemingly inevitable outcome.
Today, Susan is on a mission: To set people on a journey of healing, motivate them to shift their perceptions and be an example of what is possible for them

Look at the results and transformations already happening in my coaching group
And we have only just begun!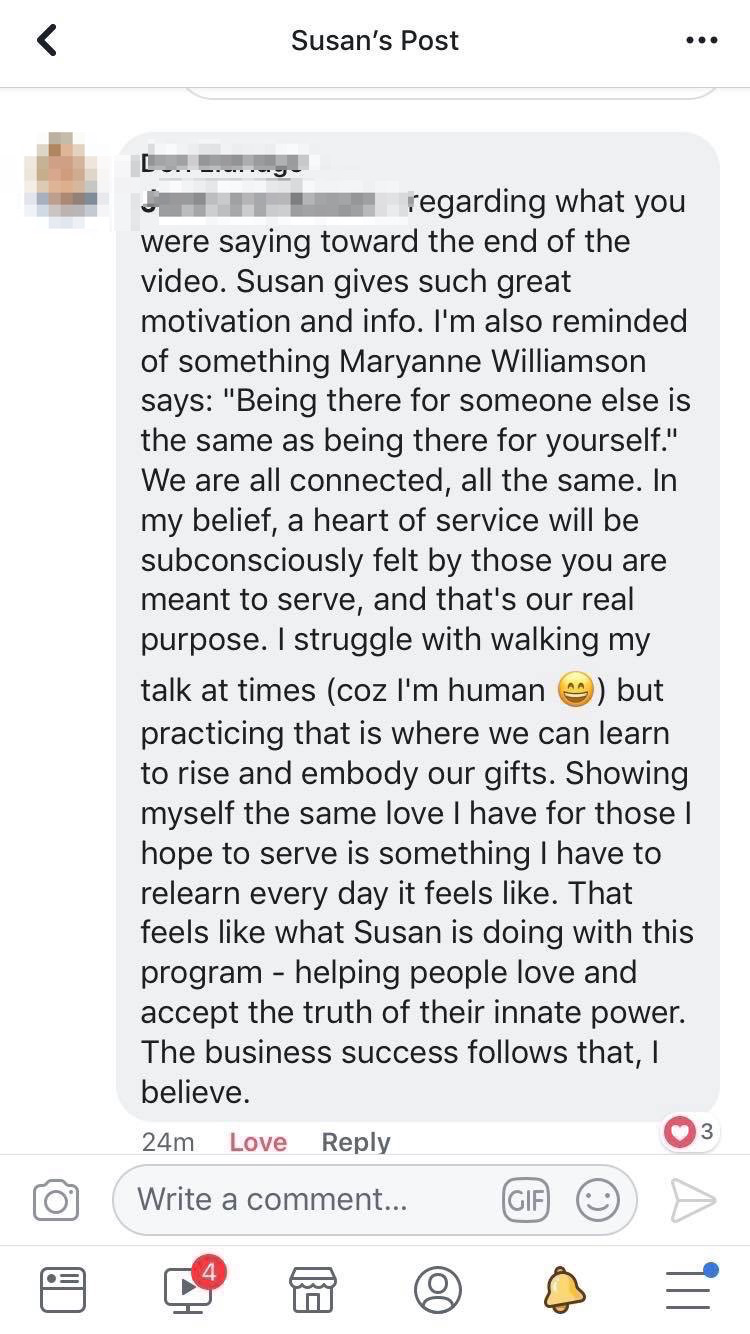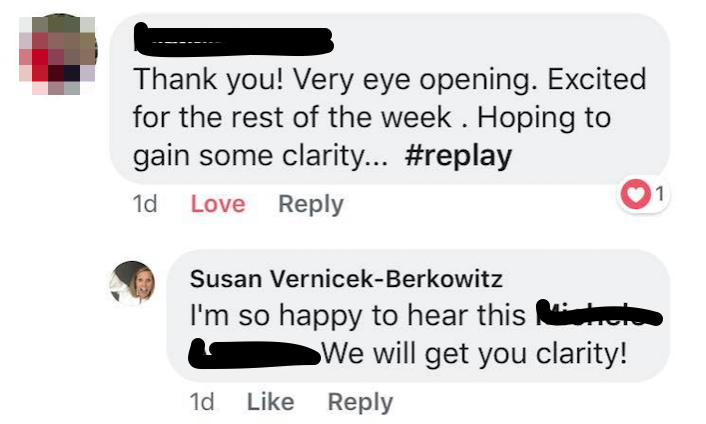 Make your Mind & Energy a Priority
I will take you through my signature process that will show you why the way you have been thinking has affected how you are feeling today.
I will teach you how to focus your mind so that you will feel a lot more energized and confident to take charge of your life.
You will feel stronger physically and mentally at the end of our time together and you will experience how your new way of BEING is changing your life.
"As an entrepreneur, there are certain characteristics that stand out when you work closely with other people. Sometimes it's passion or desire, maybe commitment or attention to detail… Other times, it's all of those things and then maybe something else, something special. Having known Susan for several years, both personally and professionally, I'd have to say that she has it – that something special you look for in others that inspires you. Susan inspires me to do more, to reach out, to improve myself and to nurture others. I'm very thankful for that and I'm confident that she can do the same for you…"
– Eric Burke
*Program is non-refundable, but transferable to another program or coaching.